SHOWING 3 OUT OF 3 PRODUCTS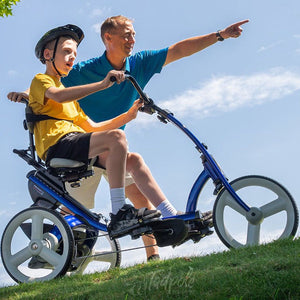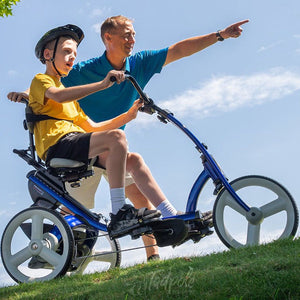 Rifton Tricycle, Fun for All!
Fun is for everyone and, with the Rifton Tricycle, fun you shall have. The Rifton Tricycle is an exciting, adaptive bike that enables anyone to enjoy the freedom and play of the outdoors. Customizable features and a slew of accessories give both rider and caregiver peace of mind, allowing you to relax, feel the wind in your hair, and truly live in the moment.
Maximum Fun.
The Rifton Tricycle has many adjustments to help with the perfect fit. This ensures the rider feels comfortable and secure, leaving them simply to enjoy the ride. Caregivers, too, can relax knowing their loved one is protected and can better appreciate their time together.
Peer Engagement.
One of the best things about the Tricycle is how it enables the user to connect with their community and engage with their peers. This is hugely impactful on the individual's sense of independence and belonging, improving overall quality of life. In school environments and just around the neighborhood, the Rifton Tricycle gives children a way to connect in ways like never before.
Neuromuscular Training.
Fitness and physical activity are important to living a healthy life, no matter a person's ability. Riding a tricycle, even with assistance, improves muscle strength and perpetuates positive neuromuscular feedback. Not only does the physical activity encourage mental health and fight off comorbidities, with the repetitive nature of riding a bicycle, there's a good chance you'll see improvements in other areas of your client's physical capabilities as well.

Rifton Tricycles come in colors that fit your individual style!