SHOWING 3 OUT OF 3 PRODUCTS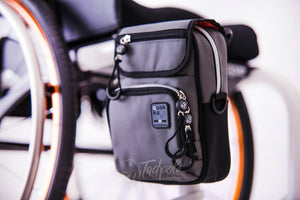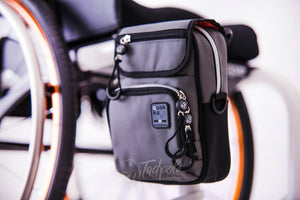 -Tadpole Adaptive Review of the Quokka Horizontal Mobility Bag-
We saw the Quokka Mobility Bags at the Abilities Expos and saw what a huge hit they were! We've tested them out (I'm using the large vertical bag) and give them a big thumb's up! It has the feel of a high end bag and is masculine enough for guys to use but has the style women will appreciate. It feels 'expensive' and European but also does't stand out too much. So easy to get on and off with the easy locking mechanism, that'll be great for airport security or when I want to put it another chair. Mom's who have kids in strollers (or chairs, or both) are going to love this bag! 
It doesn't make my chair feel wider and doesn't feel too 'bulky'. I like how the flap 'snaps' with the magnet, great for when I'm constantly pulling out a phone or wallet and don't have to fuss with closing it. Finally, the big loop on the outer pocket makes opening the bag really easy with just a thumb or finger (I also like how they include optional rings for all the zippers - nice touch) — And, finally, a place for my change! I hate dealing with change in a wheelchair…" [Review by Andy, Co-founder tadpoleadaptive.com, wheelchair user and hater of handling loose change.]
Quokka® Bags are:
 High quality, convenient and aesthetically pleasing

 Suitable for all type of wheelchairs, including power, and walkers

 Attached to the site of the wheelchair and it does not make a wheelchair any wider

 Locked onto the wheelchair with one simple movement. 

 Magnetic seal on front flap makes keeping it sealed ver easy.

 Slim profile doesn't add width to your chair or stroller.
Stylish, with easy pulls and lots of pockets. Magnetic seal keeps it closed with no effort.
Get extra mounts to easily move it between your mobility devices.
Moms love it!  Attach it to the stroller and easily take it off and use the shoulder strap. Also keep the same bag