We are the Koozers and we love adventures! Piper loves our family adventures but things are getting a little trickier as she gets older and bigger. We would love to continue giving her the best quality of life by doing her favorite things! She loves going on bike rides and has outgrown all the traditional bike trailers.
Piper is nine and was diagnosed with Aicardi Syndrome at 6 months old. She had her first seizure at 3 months old. She's had daily seizures since then and was given a life expectancy of 3 years. Since she was little we promised her that we would always take her fun places and let her see the world like a typical child does. She loves movement! She is wheelchair bound and doesn't walk so movement is one of her favorite ways to experience the world. She loves skiing, roller coasters and bike rides. Her little brother loves having her along for the ride and would love to continue to go on adventures with his sister.
Please help us if you can to provide the kind of life Piper deserves!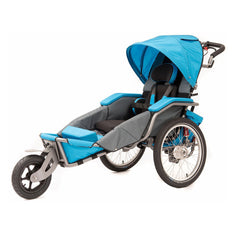 Custom Josi Stroller for Piper's MobilityFunder Campaign
View Product
Contributors (
0

)
Anna Taylor
1 month ago
Anonymous
1 month ago
Anna Taylor
1 month ago
Anna Taylor
1 month ago