How to use MobilityFunder®
Follow these easy steps to begin your campaign & start some buzz.
Find that item you need on Tadpole Adaptive.
Shop on our retail site, tadpoleadaptive.com, you can search by category, brand, favorites and more. Reach out to us if you need help!
Configure, choose the options & accessories you need.
Most of our products are customizable to your needs. Choose the right size, color, accessories and more. Expert help and suggestions are always available from our team.
Click the MobilityFunder® Button on the product's page.
When you are ready to move forward, instead of checking out, click the yellow 'Use MobilityFunder™' button on the product page to begin creating your campaign.
Create Your Campaign
Use the easy to follow setup form to name your fundraising campaign, tell us your details, share your story, upload pictures and even a video.
Help along the way.
We've added tips and suggestions based on feedback from successful campaigns to help guide you during setup. If you get stuck, need help, or advice, we're happy to help you with the process.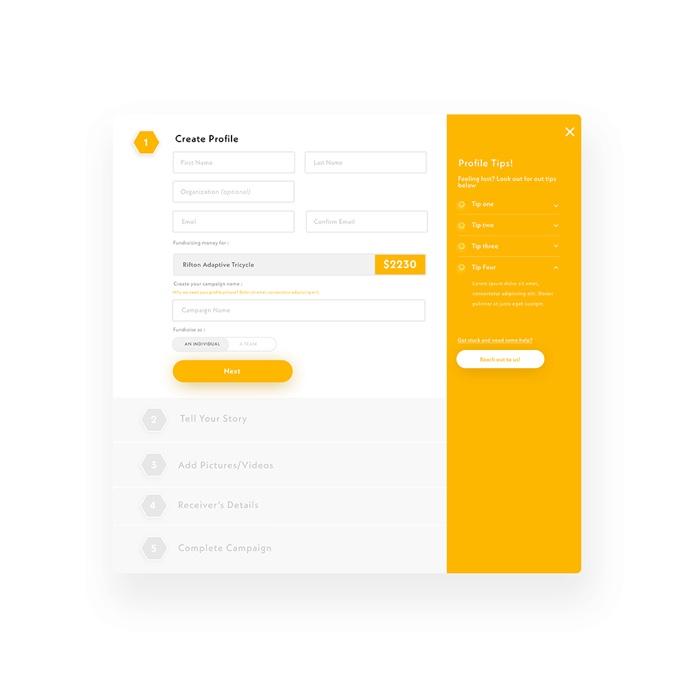 You're good to go!
Once you've added your product and completed the signup process, we'll review your campaign. Once approved, your personal MobilityFunder® Campaign Page will go live and you can start sharing with Your Hive and generate some Buzz!
Your Success Depends on Sharing.
We won't sugarcoat… we've have many successful stories from people just like you who have used our platform to get that item they really need. They all have something in common, they shared on Facebook, got friends (and friends of friends) to share their campaigns, made videos, flyers, spread that word at work, school, events, church, etc.
Long story short: this requires a bit of work and hustle on your part - but it's well worth it! Your Hive is there for you. They want to help (sometimes they don't know how) and you'll need to engage with them to succeed But don't fret, it you get stuck, "Hit a Wall" or need some tips, reach out to our team.